Associate Companies
Onsky Enterprise Limited
Kaneyama Electric Trading & Eng., Co.



TOSHIBA E-CORE LED Floodlight 93W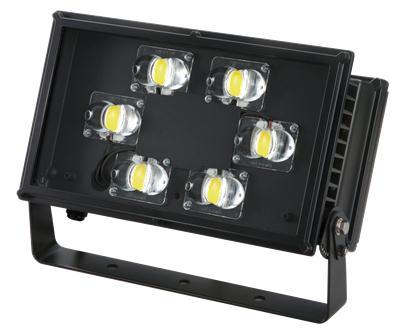 Night-time lighting of buildings and other structures is a standard element of urban spatial design. This pivoting facade spotlight is the suitable tool for the job. Unbreakable, long-lasting and with an impressively uniform light output, it makes modern architectural lighting a reality. In figures, this represents 6000 lumen at a power consumption of just 93 W and a nominal service life of 60,000 hours.
Model
型號

Dimension
尺寸 (mm)

Power Consumption
耗電量
(W)

Voltage
電壓
(V)

Color
Temp
色溫
(K)

Color Description
光原色

Initial Lumens
流明 (lm)

Rated Lifespan
壽命
(hr / 小時)

Min. CRI
最低
顯色度

Dimming
調光
Remarks
備註
LEDEUF00012N50
350(W) x 280(H)
x 123(D)
93
220-240
5000
Daylight
6080
60 000
70 Ra
No
IP65
IK07
Made in Japan
TOSHIBA E-CORE LED Floodlight 3000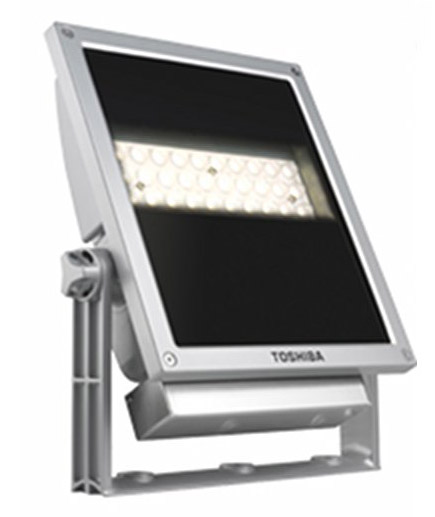 Model
型號

Dimension
尺寸 (mm)

Power Consumption
耗電量
(W)

Voltage
電壓
(V)

Color
Temp.
色溫
(K)

Color Description
光原色

Initial Lumens
流明 (lm)

Rated Lifespan
壽命
(hr / 小時)

Min. CRI
最低
顯色度

Angle
照射
角度
Dimming
調光
Remarks
備註
LEDEUF00019I30
268(W) x 288(H)
35
220-240
3000
Warm white
2015
60 000
80 Ra

11°

No
• IP65
• IK09
• Constant Lumen output
LEDEUF00020I30
268(W) x 288(H)
35
220-240
3000
Warm white
1860
60 000
80 Ra
25

°

LEDEUF00021I30
268(W) x 288(H)
35
220-240
3000
Warm white
1845
60 000
80 Ra
43

°

LEDEUF00022I30
268(W) x 288(H)
35
220-240
3000
Warm white
1775
60 000
80 Ra
58

°

x127

°

LEDEUF00019I40
268(W) x 288(H)
35
220-240
4000
Warm white
2015
60 000
80 Ra

11°

LEDEUF00020I40
268(W) x 288(H)
35
220-240
4000
Warm white
1860
60 000
80 Ra
25

°

LEDEUF00021I40
268(W) x 288(H)
35
220-240
4000
Warm white
1845
60 000
80 Ra
43

°

LEDEUF00022I40
268(W) x 288(H)
35
220-240
4000
Warm white
1775
60 000
80 Ra
58

°

x127

°

LEDEUF00019I50
268(W) x 288(H)
35
220-240
5000
Daylight
2880
60 000
70 Ra

11°

LEDEUF00020I50
268(W) x 288(H)
35
220-240
5000
Daylight
2665
60 000
70 Ra
25

°

LEDEUF00021I50
268(W) x 288(H)
35
220-240
5000
Daylight
2640
60 000
70 Ra
43

°

LEDEUF00022I50
268(W) x 288(H)
35
220-240
5000
Daylight
2640
60 000
70 Ra
58

°

x127

°
TOSHIBA E-CORE LED Floodlight 5000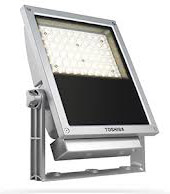 Model
型號

Dimension
尺寸 (mm)

Power Consumption
耗電量
(W)

Voltage
電壓
(V)

Color
Temp.
色溫
(K)

Color Description
光原色

Initial Lumens
流明 (lm)

Rated Lifespan
壽命
(hr / 小時)

Min. CRI
最低
顯色度

Angle
照射
角度
Dimming
調光
Remarks
備註
LEDEUF00023I30
268(W) x 288(H)
66
220-240
3000
Warm white
4035
60 000
80 Ra

11°

No
• IP65
• IK09
• Constant Lumen output
LEDEUF00024I30
268(W) x 288(H)
66
220-240
3000
Warm white
3720
60 000
80 Ra
25

°

LEDEUF00025I30
268(W) x 288(H)
66
220-240
3000
Warm white
3685
60 000
80 Ra
43

°

LEDEUF00026I30
268(W) x 288(H)
66
220-240
3000
Warm white
3395
60 000
80 Ra
58

°

x127

°

LEDEUF00023I40
268(W) x 288(H)
66
220-240
4000
Warm white
4035
60 000
80 Ra

11°

LEDEUF00024I40
268(W) x 288(H)
66
220-240
4000
Warm white
3720
60 000
80 Ra
25

°

LEDEUF00025I40
268(W) x 288(H)
66
220-240
4000
Warm white
3685
60 000
80 Ra
43

°

LEDEUF00026I40
268(W) x 288(H)
66
220-240
4000
Warm white
3395
60 000
80 Ra
58

°

x127

°

LEDEUF00023I50
268(W) x 288(H)
66
220-240
5000
Daylight
5760
60 000
70 Ra

11°

LEDEUF00024I50
268(W) x 288(H)
66
220-240
5000
Daylight
5315
60 000
70 Ra
25

°

LEDEUF00025I50
268(W) x 288(H)
66
220-240
5000
Daylight
5280
60 000
70 Ra
43

°

LEDEUF00026I50
268(W) x 288(H)
66
220-240
5000
Daylight
5080
60 000
70 Ra
58

°

x127

°